I have an exciting month planned here on Speed River Journal. The trees are bursting, birds are breeding and vegetables and herbs are sprouting. It is also a time for personal challenge and growth. To get things off to a lush and spirited start, here is Vanessa Redgrave in the 1967 movie version of Lerner and Loewe's musical Camelot.
So what is all the excitement about? Three important things are happening this month. Two of them involve travel, and two of them are 'thons.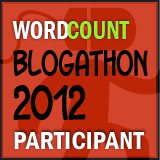 First, I am participating in the 2012 Wordcount Blogathon. That means a new post will appear every day. Why? Above all it is a challenge to provide more informative, relevant content. Watch for useful articles such as a guide to urban foraging. I also want to take a look at changing attitudes about the value of  exotic (or invasive) species. Look for a seasonal recipe and a haiku or two. At least one guest post is also in store. Lots more will appear in this space, so stay tuned.
As if that were not enough to keep me busy, I will also participate in the Baillie Birdathon to raise funds for bird conservation. An upcoming post will explore why this is such a worthy cause, besides the fact birds are wonderful. Find out why I am participating. Please consider sponsoring me. You can do so by visiting my fundraising page. Any donation is welcome, but for every gift of $50 or more before the big day, May 23, I pledge to donate $5 myself. I will make one or two dry runs before then, so follow along to see what happens.
The birdathon requires driving around to some local hot spots, but I called for more travel, didn't I? Just to make things even more exciting, I am going on vacation for a few days during the middle of the month. We have not worked out all the details, but so far the itinerary includes Prince Edward County (a new wine-producing region on the north shore of Lake Ontario, and another great place to see birds), a couple of days in Montreal, and finally the long-anticipated Men's Spring Knitting Retreat at Easton Mountain in Greenwich, New York. This blog will go along for the ride so we can share some new sights and experiences (though I will also write ahead to provide some down time).
Do you have any ideas or concerns about urban nature at this time when "The birds and bees with all their vast/amorous past/gaze at the human race aghast"? Let me know with a comment. Your suggestion might warrant an article. All things considered, this will be an extraordinary month. Join me in going "blissfully astray."